---
Virgo Tungsten Gold-Plated Coin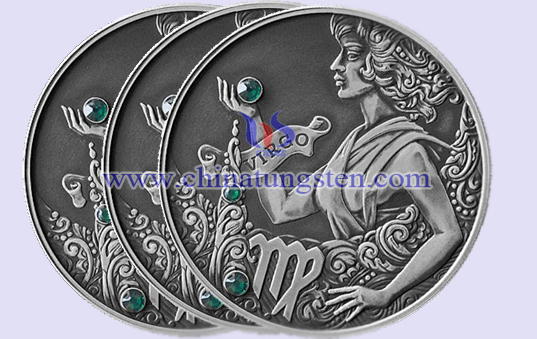 Just as the traditional Chinese Zodiac, the twelve constellations are also identified and welcomed by people all over the world. Virgo, date of birth is the Gregorian calendar August 23rd ~September 22nd. People who are Virgo always have understanding heart, and go for perfect, which makes them be regarded as the most critical constellation.
Virgo tungsten gold-plated coin, for its characteristics of elegant appearance, good corrosion resistance, abrasion resistance and high cost-effective, is widely used and popular as gift, souvenir, collectible etc. In addition to customize Virgo tungsten gold-plated coin to Virgo friends, many people will also customize a set of twelve constellations tungsten gold-plated coins as collectibles.
Declaration:Tungsten gold-plated products offered by Chinatungsten Online are only for decoration, commemoration and/or collection, please do not use for illegal purposes.
Announcement
More Links:
Gold-Plated Tungsten Alloy Bar
Gold-Plated Tungsten Alloy Coin

Enquiry & Order