---
Tungsten Gold Plated Bookmark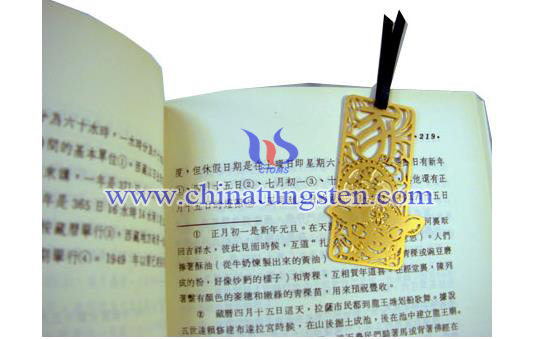 Book is the ladder of human progress. For people who are fond of reading, book is just like a breeze brushing his/her cheek, and also just like the sunshine warming his/her heart. On a comfortable and pleasant sunny afternoon, sitting on the tatami, open pages lightly, fingers with a tungsten gold plated bookmark full of rich texture and warm light, that make you lingering.
Tungsten gold plated bookmark is especially designed for a group of people who love reading, it can be bright as gold, elegant as silver and beautiful as picture. Tungsten gold plated bookmark is durable, non-toxic and environmental friendly. Using this type of tungsten gold plated bookmark on the title page could prevent any chomping by bookworms, also could make your book so special and unforgettable. As it is of rich texture, more abundant cultural connotations, tungsten gold plated bookmark is more and more popular among the youths. It could be customized in accordance with various design including engraving, size, unit weight, gold type, etc.
Declaration:Tungsten gold-plated products offered by Chinatungsten Online are only for decoration, commemoration and/or collection, please do not use for illegal purposes.
Announcement
More Links:
Gold-Plated Tungsten Alloy Bar
Gold-Plated Tungsten Alloy Coin

Enquiry & Order