---
Tungsten Gold-Plated Coin for Graduation Ceremony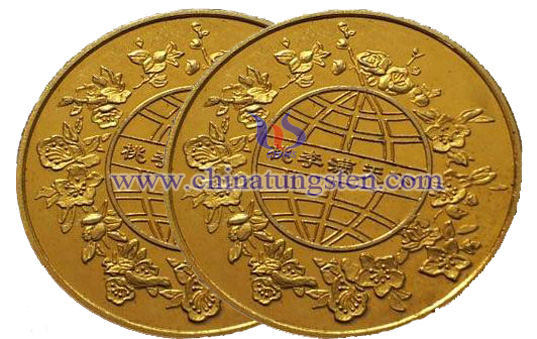 For many students, graduation ceremony is as important as a milepost in his life. It is also the case for the school or university, granting the graduation certificate to each student indicates that he will leave his alma mater, and go their own way of life.
Tungsten gold-plated coin for graduation ceremony is usually engraved the name of school or university, motto, date of graduation etc. on its surface. This is as important as milestone for commemoration, and reminding students have already waved farewell to the ivory tower. They need to create a new life for themselves. Tungsten gold-plated coin has exquisite appearance, bright color and good corrosion resistance, which can be permanently preserved as a souvenir of graduation ceremony. The size, unit weight and pattern of tungsten gold-plated coin for graduation ceremony can be customized according to special requirements.
Declaration:Tungsten gold-plated products offered by Chinatungsten Online are only for decoration, commemoration and/or collection, please do not use for illegal purposes.
Announcement
More Links:
Gold-Plated Tungsten Alloy Bar
Gold-Plated Tungsten Alloy Coin

Enquiry & Order