---
Tungsten Gold-Plated Coin for Sports Meeting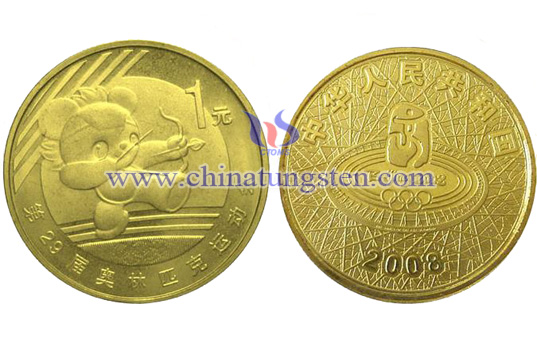 Sports' meeting is a kind of activity for encouraging people to exercise, which has spread to all regions of the country. There are many sports meetings, the bigger as the Summer Olympics and the Winter Olympics, the smaller as the school sports meetings etc. Scientific research shows that sports can produce the happy factors, which can make people feel joyful. Therefore, its holding form also becomes more and more mature.
In order to encourage the athletes who participates the sports meeting, the organizers will purchase the relevant medals, gongs, commemorative coins or some other gifts to the athletes as souvenirs. Tungsten gold-plated coin for sports meeting not only has the beautiful and golden appearance as gold coins, but also can be preserved for a long time due to the tungsten alloy's characteristics of good wear resistance and excellent corrosion resistance, as well as to make tungsten gold-plated coin can not be easily eroded by the sweat of athletes. Therefore, tungsten gold-plated coins are very suitable to be used as mementos of the sports meetings. The gold plating design can be rose gold, platinum, violet gold, rhodium, and so on.
Declaration:Tungsten gold-plated products offered by Chinatungsten Online are only for decoration, commemoration and/or collection, please do not use for illegal purposes.
Announcement
More Links:
Gold-Plated Tungsten Alloy Bar
Gold-Plated Tungsten Alloy Coin

Enquiry & Order