---
Gemini Tungsten Gold-Plated Coin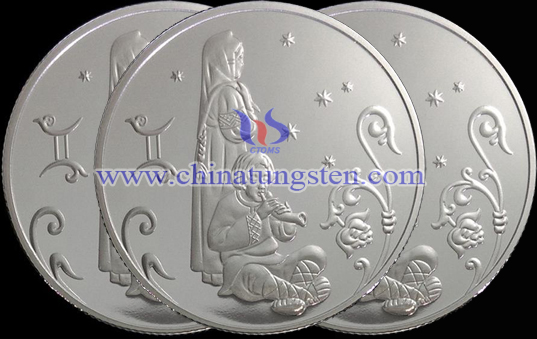 Constellations is originated from one of the four ancient civilizations of Babylon, which is a kind of ancient culture links the stars of the heaven and myth together for divination and determining orientation. But with the development of the concept in the present society, this kind of culture has been widely accepted by people all over the world.
Gemini was born on Gregorian calendar of May 21st ~June 21st; Gemini is the third sign of the twelve zodiac signs. The person Gemini, who is said having a changeable character, but is easy-going and full of wisdom. Gemini tungsten gold-plated coin refers to engrave the symbol or pattern of Gemini on the tungsten coin's surface, which can be used as souvenirs of Gemini. The Gemini tungsten gold-plated coin can be customized according to different requirements, so as to be well used as the souvenirs or gifts to friends or relatives who is Gemini. It can not only show the beautiful and meaningful of Gemini tungsten gold-plated coin, but also appear to be inventive and unique.
Declaration:Tungsten gold-plated products offered by Chinatungsten Online are only for decoration, commemoration and/or collection, please do not use for illegal purposes.
Announcement
More Links:
Gold-Plated Tungsten Alloy Bar
Gold-Plated Tungsten Alloy Coin

Enquiry & Order