---
Tungsten Gold Plated Brick for Gold Store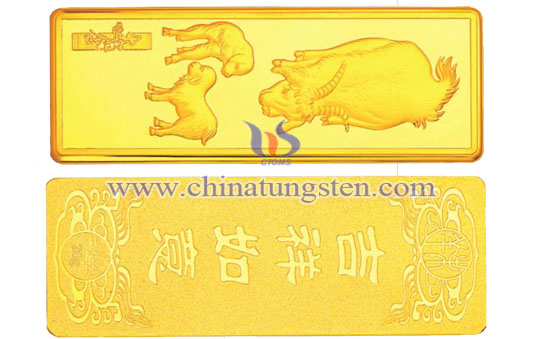 As people's enthusiasm for the purchase of gold has risen, the gold store in market is in a growing situation. The gold products such as gold bars, god coins, gold jewelries on the counter display make people too busy to attend to all, but that also become the thief's stealing targets.
Tungsten gold-plated brick, has almost equal density of gold, and therefore have the same feel of gold. The appearance of tungsten gold-plated brick is as beautiful as gold, so that make it can be used as a counter display sample of the gold store. Not only can attract people's eyes, but can avoid the occurrence of theft, and greatly reduce the loss of gold store. It can be said as killing two birds with one stone. The size, shape, gold-plating color of tungsten gold-plated brick can be customized in accordance with customers' needs.
Declaration:Tungsten gold-plated products offered by Chinatungsten Online are only for decoration, commemoration and/or collection, please do not use for illegal purposes.
Announcement
More Links:
Gold-Plated Tungsten Alloy Bar
Gold-Plated Tungsten Alloy Coin

Enquiry & Order