---
Tungsten Gold Plated Coin for Railway Operation Commemoration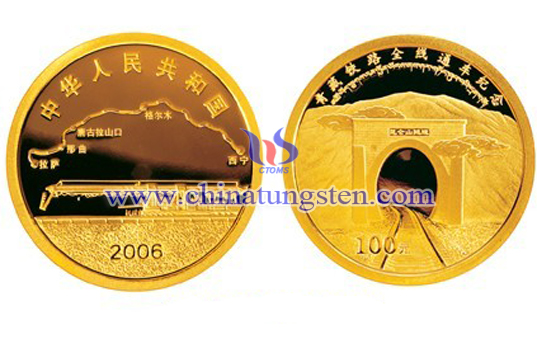 The first country began to construct railway in the world is United Kingdom. For China, the first railway was built in Year 1876, which is named Wusong Railway. Railway plays a crucial role for the development of national economy, so the commemoration method for railway construction will be vital.
Tungsten gold plated coin for railway operation commemoration, also called tungsten alloy gold plated coin, has high density almost the same as the real gold to be used as the gold substitution, and is wear resistant and corrosion resistant. Besides, as it is high cost-effective with the beautiful appearance compared to the real gold, it is widely used for railway operation commemoration. The surface for tungsten gold coin could be finished by grinding, engraving and gold plating. The unit weight, size, engraving and gold type could be customized based on clients' requirement.
Declaration:Tungsten gold-plated products offered by Chinatungsten Online are only for decoration, commemoration and/or collection, please do not use for illegal purposes.
Announcement
More Links:
Gold-Plated Tungsten Alloy Bar
Gold-Plated Tungsten Alloy Coin

Enquiry & Order