---
Arise Tungsten Gold-Plated Coin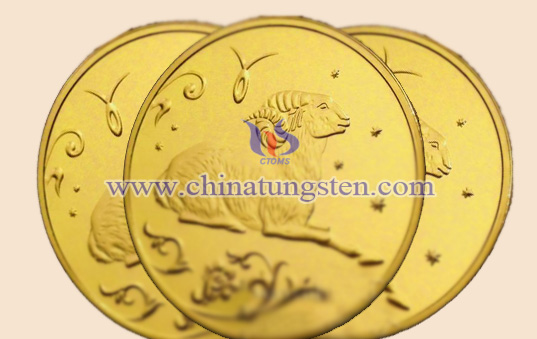 The twelve constellations are the ancient astrology that to be commonly used in western, namely the twelve zodiac signs. According to their own free imagination, people described the concretizations of the twelve constellations, which may be divided in turn into: Aries, Taurus, Gemini, Cancer, Leo, Virgo, Libra, Scorpio, Sagittarius, Capricorn, Aquarius, Pisces.
Aries tungsten gold-plated coin is usually used to commemorate the people who was born in the range of the March 21st ~April 19th. Aries tungsten gold-plated coin has the exquisite appearance, fine pattern, so whether it is used as collection or gift, it would be an excellent choice. The surface of Aries tungsten gold-plated coin not only can be plated of gold, but also can be plated of other colors, such as platinum, violet gold, rose gold and so on.
Declaration:Tungsten gold-plated products offered by Chinatungsten Online are only for decoration, commemoration and/or collection, please do not use for illegal purposes.
Announcement
More Links:
Gold-Plated Tungsten Alloy Bar
Gold-Plated Tungsten Alloy Coin

Enquiry & Order