---
Tungsten Gold Plated Bar for Company Opening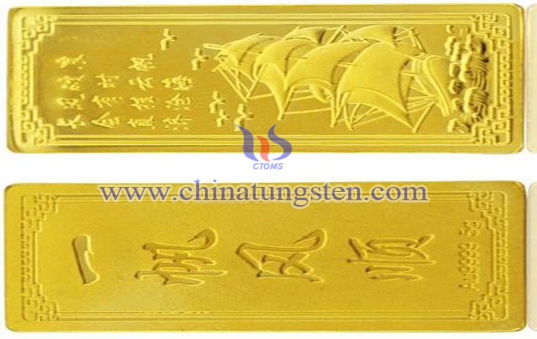 Tungsten gold plated bar, also known as tungsten alloy gold plated bar, is mainly made of tungsten alloy with gold plating on its surface of the high density almost the same to the real gold. It could be used for company opening commemoration as its high cost-effective and durability, which is an excellent handcraft souvenir.
Tungsten gold plated bar for company opening can be embodied the noble sense, also it shows the different status of the receivers, such as career, style, identity and so on. Adding different elements of personality to tungsten gold plated bar could achieve its characteristic of DIY. Especially, the unit weight, size, specification, engraving, gold plating could be customized. Engraving the special date, name, value on the bar could express the commemoration of the company's history and significant activities.
Declaration:Tungsten gold-plated products offered by Chinatungsten Online are only for decoration, commemoration and/or collection, please do not use for illegal purposes.
Announcement
More Links:
Gold-Plated Tungsten Alloy Bar
Gold-Plated Tungsten Alloy Coin

Enquiry & Order