---
Tungsten Gold Coin for Film Festival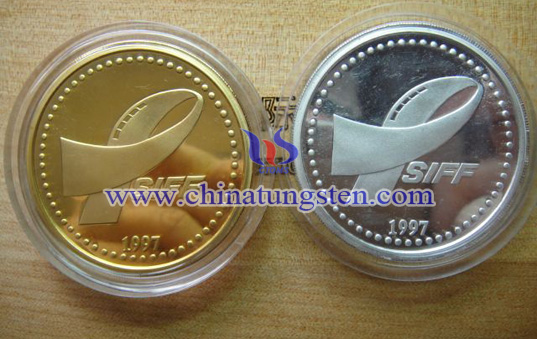 The first international film festival was born in August 6, 1932, which aimed to promote and demonstrate the exchange of excellent film, so as to promote the development of film art. The influence of file festival is growing, and becomes more and more mature nowadays. Tungsten gold coins play a role as the souvenirs for film festival to commemorate its special meaningful activities.
Tungsten gold coin for film festival is made of tungsten alloy material inner, and then do gold plating on its surface to make it looks like the real gold coin, so that it could used as the gift or souvenir for film festival with a much cheaper cost. For it is cost-effective, tungsten gold coin for film festival becomes more and more popular for film festival to embed the value and significance of the film festival. It is corrosion resistant and non-toxic, and could be easily preserved and stored permanently, and won't decay. Environmental-friendly makes it much suitable to the current people's life philosophy. Engraving technique could also be applied to tungsten gold coin if there is any design or demand for special commemoration. The gold plating could be 24K, 18K, rose gold, silver, copper, platinum, etc. Size and unit weight could be offered customized.
Declaration:Tungsten gold-plated products offered by Chinatungsten Online are only for decoration, commemoration and/or collection, please do not use for illegal purposes.
Announcement
More Links:
Gold-Plated Tungsten Alloy Bar
Gold-Plated Tungsten Alloy Coin

Enquiry & Order