---
Gold-Plated Tungsten Coin for Adult Ceremony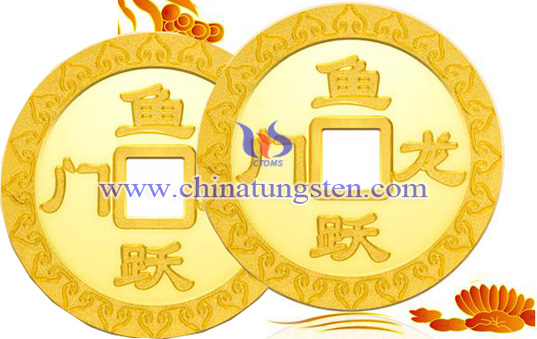 Whichever country has its special adult ceremony day. For parents, adult ceremony means that their children have their own abilities to live their own life; for teenagers, adult ceremony means that they are no longer the flowers in the greenhouse; they can find their own spaces and go their own ways with an independent personality. In China, the modern adult ceremony is a ceremony held for men and women who aged more than eighteen years. But no matter China or other countries, in order to commemorate this special day for their children, most parents will send some meaningful gifts to their children on that day.
The gold-plated tungsten coin, which engraved some profound meaningful words such as having a bright future, can be used as adult ceremony gifts to children on adult ceremony. The blessing words and wishes for the gold-plated tungsten coin can be customized according to the custom's needs. Gold-plated tungsten coin has the characters of non-toxic and environmental friendly; it is exquisite like real gold which has high cost-performance; it looks like real gold, but has better wear resistance and abrasion resistance. Thus, it is a good choice for the parents to use as gift to their children in the adult ceremony. Gold-plated tungsten coin for adult ceremony can not only be plated 24 K gold, but also can be silver, rose gold, copper and platinum etc. Its size, weight and engraving patterns can be customized according to special requirements.
Declaration:Tungsten gold-plated products offered by Chinatungsten Online are only for decoration, commemoration and/or collection, please do not use for illegal purposes.
Announcement
More Links:
Gold-Plated Tungsten Alloy Bar
Gold-Plated Tungsten Alloy Coin

Enquiry & Order