---
Tungsten Gold Coin for Match Commemoration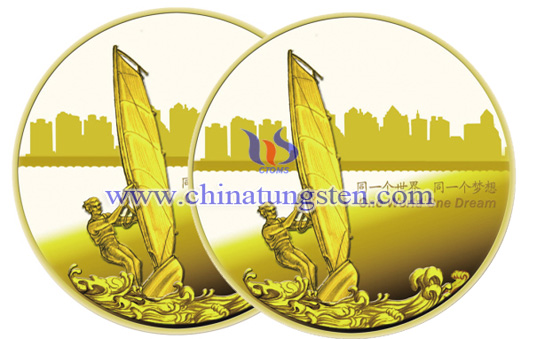 People may have participated in different matches in their whole life, such as chess game, calligraphy competition, piano competition, Mathematical Olympiad competition, etc. The souvenir for match may also be stacked in the closet, which may be involved in the scene with years of dust and is left rust stains on its surface by time.
However, if you choose tungsten gold coin as match commemoration, then there will be worries about the rust. Tungsten gold coin, also called as tungsten gold plated coin, is made of tungsten alloy material inner and with gold plating on its surface, showing its bright luster just the same as the surface of fine gold. It has long life circle and wearing resistance, so it will be superior as a souvenir for commemorating match especially forever, although it will be years of dust and will not be etching time. Besides, it is non-toxic, environmentally friendly and cost-effective, it suits the new conception of environment protection awareness. Surface could be plated by 24K gold, 18K gold, rose gold, silver, etc. Tungsten gold coins are excellent choice for match commemoration; also it leaves an enduring mark and expresses anticipation to the contestants. Tungsten gold coin for match commemoration could be offered in accordance with the requirements of clients' specific customizations.
Declaration:Tungsten gold-plated products offered by Chinatungsten Online are only for decoration, commemoration and/or collection, please do not use for illegal purposes.
Announcement
More Links:
Gold-Plated Tungsten Alloy Bar
Gold-Plated Tungsten Alloy Coin

Enquiry & Order