---
Tungsten Gold Coin for Company Listed Anniversary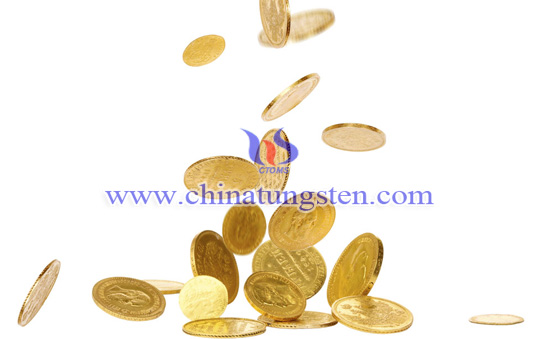 For a company, listing is an effective way to raise funds and to improve the visibility of company. Listing can enhance a company's macro-control ability on the financial aspects and can introduce a number of domestic and foreign strategic partners. It appears it is very important to commemorate the company listed anniversary in some degree.
Tungsten gold coin for company listed anniversary, also known as tungsten alloy gold-plated coin. It's made of tungsten alloy and plated with gold, so it has tungsten alloy's unique good wear resistant, corrosion resistant and environmental friendly advantages. In addition, tungsten gold coin has a comparable appearance as gold. Therefore it can be a good choice as a souvenir, collectible or gift. Although the price for tungsten gold coin for company listed anniversary is lower than gold, but it is more welcomed by people due to its high commemoration value and long-term preservation. The size, weight, surface control, engraving of tungsten gold coin for company listed anniversary could be customized in accordance with clients' required or drawings provided.
Declaration:Tungsten gold-plated products offered by Chinatungsten Online are only for decoration, commemoration and/or collection, please do not use for illegal purposes.
Announcement
More Links:
Gold-Plated Tungsten Alloy Bar
Gold-Plated Tungsten Alloy Coin

Enquiry & Order