---
Tungsten Gold Coin for Opera Art Festival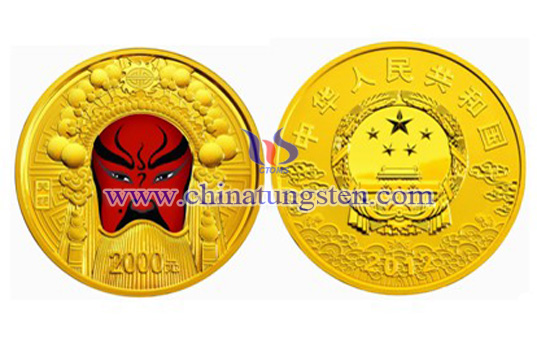 China has a very ancient and mature drama art and culture, especially in opera represented. Opera art has a rich cultural charm and artistic appeal, which is he "living fossil." in history. With the weakness of opera art, besides significant events, people's protection awareness to opera art is growing; the awareness of commemoration opera art is making tungsten gold coin for opera art festival.
Tungsten gold coin for opera art festival is an art of opera written heritage and commemorate the spread of opera art. It has gold plating attractive surface and rich texture, which make it look like the real gold. Tungsten gold coin for opera art festival is cost-effective, non-toxic and corrosion resistant, so it is well used as souvenirs for opera art festival, also could be sent as the gift to friends, families, etc. The size, unit weight, style, engraving could be designed and offered as per clients' requirement. The unit weight usually rages from 1gram to 50 gram.
Declaration:Tungsten gold-plated products offered by Chinatungsten Online are only for decoration, commemoration and/or collection, please do not use for illegal purposes.
Announcement
More Links:
Gold-Plated Tungsten Alloy Bar
Gold-Plated Tungsten Alloy Coin

Enquiry & Order