---
Rabbit Tungsten Gold-Plated Bar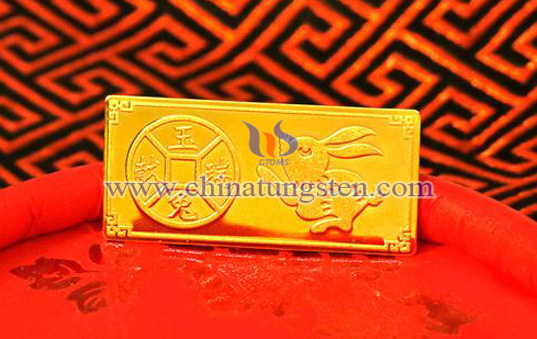 Chinese zodiac is an integral part of Chinese national culture, the man who is literate or illiterate in China can well count the name of twelve Chinese zodiacs in a straightforward way. Rabbit ranks in the fourth of the twelve Chinese zodiacs.
Rabbit tungsten gold-plated bar, also called rabbit tungsten alloy gold-plated bar, it is mainly used to celebrate the year of Rabbit, also it could be the commemoration for the person who was born in the year of Rabbit. Rabbit tungsten gold-plated bar can be engraved all kinds of lively and lovely rabbit patterns, also names or date of birth on its surface. It can be an excellent choice for gifts, souvenirs or collections. Whether it is used as the collection or souvenir of Rabbit New Year celebration, or is used as a gift for someone who is Rabbit, it not only can reflect the deep connotation of Chinese cultural, but also can be a good form of mind expression.
Declaration:Tungsten gold-plated products offered by Chinatungsten Online are only for decoration, commemoration and/or collection, please do not use for illegal purposes.
Announcement
More Links:
Gold-Plated Tungsten Alloy Bar
Gold-Plated Tungsten Alloy Coin

Enquiry & Order