---
Tungsten Gold-plated Necklace for Valentines' Day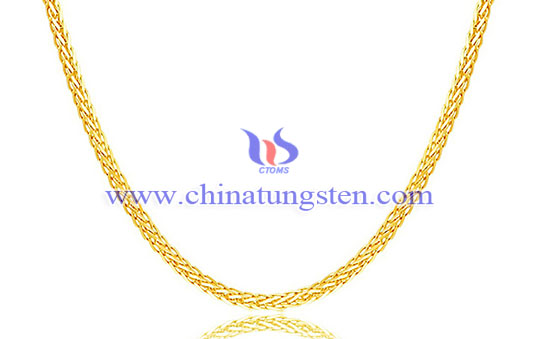 Love is a type of vowed faith which is witnessed well by the wear resistant tungsten gold-plated necklace. Tungsten gold-plated necklace is so much durable as the sign of the valentines' immortal love, and it could help to bear the beautiful romantic love in mind. Valentine's Day is the most special day for lovers. The valentines will give each other gift to express love on Valentines' Day. Tungsten gold-plated necklace will be one of the best choices as it has sooth gold surface and wear resistant.
Tungsten gold-plated necklace is mainly made of tungsten alloy and gold plating on its surface to get a golden surface, which makes it having clear and textured metallic color, besides, with its gold plating surface, such as 24K, 18K, rose gold, silver or some other colors, it looks much more like the real gold to be used as the gift for lovers. With its well wear resistance and high corrosion resistance from the sweat, it becomes a fashion jewelry holidays for youths. The most important is that tungsten gold plated necklace doesn't injury the skin but is safe enough for wearing, and the price for that is far less than the real gold necklace. We say, tungsten gold plated products are cost-effective. Tungsten gold-plated chain for Valentines' Day could also be customized based on clients' different requirements, such as length, width, thickness, engraving, quantity, style, etc.
Declaration:Tungsten gold-plated products offered by Chinatungsten Online are only for decoration, commemoration and/or collection, please do not use for illegal purposes.
Announcement
More Links:
Gold-Plated Tungsten Alloy Bar
Gold-Plated Tungsten Alloy Coin

Enquiry & Order