---
Tungsten Gold Bar for Rare Animal Commemoration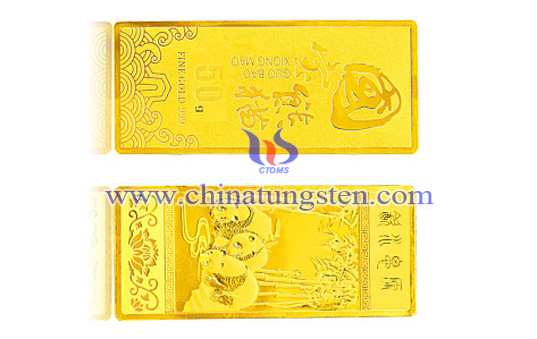 Maintaining ecological balance and stability is a prerequisite for human continued survival on Earth, but in the past many years, the destruction and slaughter of animals and their living conditions by human beings had already made many animals about to extinct. It also gradually arouses the awareness to protect endangered animals and rare animals. The significance of the existence of tungsten gold bar for rare animal commemoration is to express the concept of animal protection, and enhance awareness of the protection of rare animals, and it also can be used to commemorate these rare animals which will soon disappear.
Tungsten gold bar for rare animal commemoration can also be called as tungsten alloy gold-plated bar for rare animal commemoration; its good properties of non-toxic, environmental friendly and durable immortality make it more cost-effective than real gold bar. Although its value is lower than real gold, it has higher wear resistant and corrosion resistance. Thus tungsten gold commemorative for rare animal commemoration can be used as logo or symbol for a number of environmental organizations, animal protection organization etc. Besides, it also can be the collection or souvenir to the rare animals' hobbies. Its pattern, engraving, unit weight, size can be provided in accordance with your drawings or special requirements for customization.
Declaration:Tungsten gold-plated products offered by Chinatungsten Online are only for decoration, commemoration and/or collection, please do not use for illegal purposes.
Announcement
More Links:
Gold-Plated Tungsten Alloy Bar
Gold-Plated Tungsten Alloy Coin

Enquiry & Order