---
Cancer Tungsten Gold-Plated Coin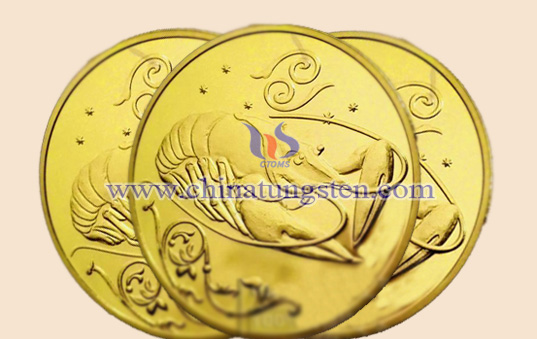 Nowadays, the developed science and technology has well replaced the one using constellations saying to determine the time and direction, but the constellations saying still has been great welcomed by young people all over the world. People always talk about the constellations at leisure, or are accustomed to use the constellations to determine a person's character.
A person who was born on June 22nd ~July 22nd is a Cancer, which is the first constellation of the beginning summer. Cancer tungsten gold-plated coin is made for transferring mind or commemorating the meaning of born. It can be customized according to people's own design or provide their own drawings to customize Cancer tungsten gold-plated coin, so as to show their loves and anticipation to the Cancer lover, relatives or friends. Cancer tungsten gold-plated coin could be plated 24K gold, platinum, rose gold, etc.
Declaration:Tungsten gold-plated products offered by Chinatungsten Online are only for decoration, commemoration and/or collection, please do not use for illegal purposes.
Announcement
More Links:
Gold-Plated Tungsten Alloy Bar
Gold-Plated Tungsten Alloy Coin

Enquiry & Order