---
Tungsten Gold Medal for Outstanding Party Member Commendation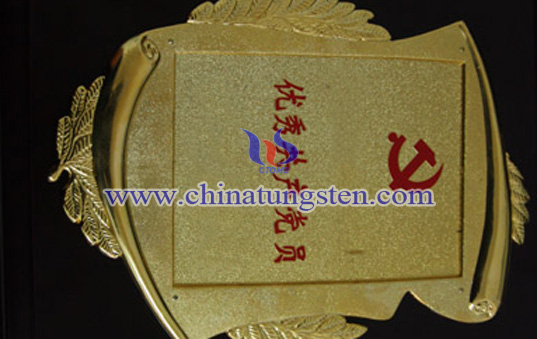 Commendation is individual or collective recognition. Tungsten gold medal for outstanding party member commendation is a kind of courage to an outstanding party member. Outstanding party member refers to those thought up high political consciousness and seriously working and actively serving the people. The party members, who have outstanding performance, will usually be awarded with certificates or medals.
Tungsten gold medal for outstanding party member commendation has become widely accepted due to its exquisite appearance like fine gold medal and high cost-performance. It is non-toxic and environmental friendly, and more wear resistant and corrosion resistant than fine gold medal, so that it can be stored for a long time without erosion with a high sentimental value. Tungsten gold medal can be used to commend the outstanding party members, giving them encouragement and recognition. The high density property of tungsten alloy can also reflect their dedication and determination for nation. Its engraving, appearance, weight, size, etc. can be customized in accordance with clinets' requirements.
Declaration:Tungsten gold-plated products offered by Chinatungsten Online are only for decoration, commemoration and/or collection, please do not use for illegal purposes.
Announcement
More Links:
Gold-Plated Tungsten Alloy Bar
Gold-Plated Tungsten Alloy Coin

Enquiry & Order